You're Invited to Pink the Town's Pretty in Pink Party!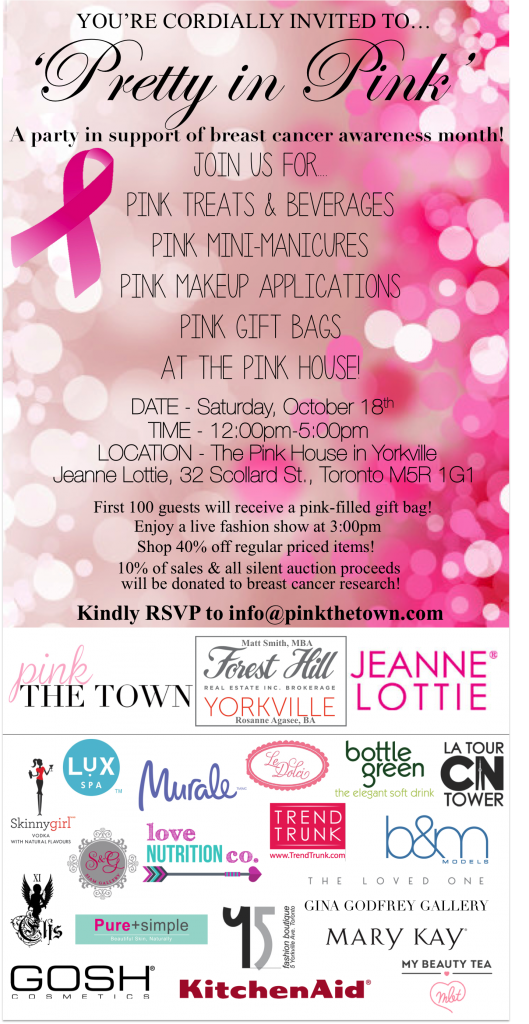 We're very excited to announce that our next Pink the Town event will be a 'Pretty in Pink' party in support of breast cancer awareness month! Join us on Saturday, October 18th, from 12:00pm-5:00pm as we help host the ultimate pink-themed occasion at The Pink House in Yorkville, Toronto in partnership with Jeanne Lottie & Yorkville-Forest Hill Real Estate Inc.
Treat yourself to pink treats and beverages provided by Le Dolci Cupcakes & Cakes, Skinnygirl and bottlegreen, receive a pink makeup application courtesy of Murale, enjoy a pink mini-manicure from LUX SPA, and take part in our silent auction with amazing items from KitchenAid, Murale, Pure & Simple, Gina Godfrey Gallery, Eleven Elfs, CN Tower, Siam Gallery, The Loved One, Mary Kay and Love Nutrition Co. Guests will enjoy a fashion show put on by BnM Models, Kelechi Achonu, Jeanne Lottie and Y5 Fashion Boutique. The first 100 guests will also take home a pink-filled gift bag full of goodies from Mary Kay, LUX SPA, Murale, Trend Trunk, My Beauty Tea, and GOSH.
10% of all sales and all proceeds from the silent auction will be donated to breast cancer research. Guests will also shop 40% off at Jeanne Lottie.
We're also so excited to be giving away a KitchenAid Raspberry Ice Architect® Stand Mixer to one lucky winner from our silent auction. The prize is being donated to celebrate this years KitchenAid Cook for the Cure Culinary Showdown. You can find out more details at culinaryshowdown.ca. With every purchase of the Raspberry Ice Stand Mixer, KitchenAid contributes $75 to the Canadian Breast Cancer Foundation and to date, over $3.1 million has been raised from the Cook for the Cure program and the KitchenAid Pink Collection.
We hope you're as excited as we are for what will surely be a very special occasion for a really great cause. 
We hope to see you there!
KINDLY RSVP TO INFO@PINKTHETOWN.COM
Tags: beast cancer party, breast cancer awareness, breast cancer fundraiser, event, party, pink the town, pink the town event, pretty in pink party, toronto, toronto event