Pink the Town Event: Calligraphy Workshop
Since starting Pink the Town back in 2012, our goal has always been to provide women with a place to connect with everything they love, both online and offline. We developed a website to feature all of our favourite topics in beauty, fashion and lifestyle, and we created Pink the Town events to allow women to experience new things, meet new people and discover new passions. We developed events for the everygirl designed to delight, teach and inspire and have always been on the lookout for new event ideas, partnerships and exciting ways that we can bring all women the pink carpet experience.
Our aim is to be the go-to place for events for women, so if you have any  ideas of something you'd like to try we'd love to hear from you! Be sure to sign up as a member or email us at info@pinkthetown.com. And be sure to keep checking back often, or follow us at @pinkthetown to hear about all of our happenings.  You can also check out all of our past events HERE.
Today, we're excited to highlight our most recent Pink the Town event, a Calligraphy Workshop in partnership with Quaintrelle.ca, Post Calligraphy and The Paper Place. On Wednesday, August 30th, we gathered at The Paper Place in Toronto to try our hand at some beginner calligraphy – something we've always wanted to try.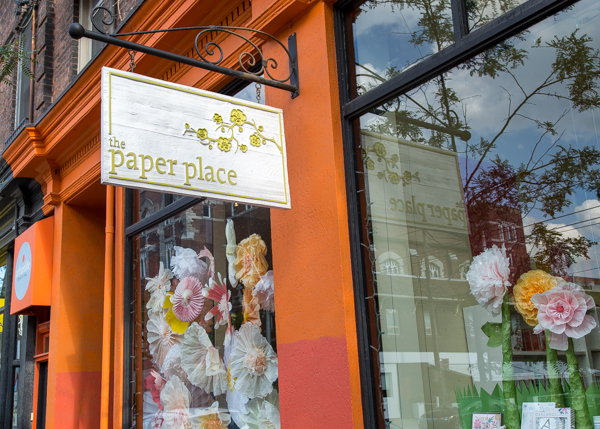 The Paper Place provided some of the materials used in the workshop. If you're looking to try calligraphy and need some supplies, The Paper Place is a great place to start. If you haven't yet been by the store, you must! You'll be in awe of the beautiful selection of everything from paper to pens, notecards to party straws, darling art and office supplies and everything in between.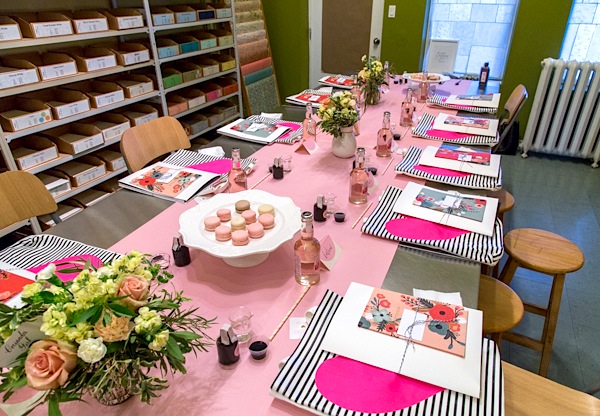 Lisa from Post Calligraphy led our amazing group in a detailed calligraphy workshop. Her modern approach to both calligraphy and teaching made everyone feel comfortable and her work is stunning – something to aspire to. You can check out her work on an ongoing basis by following her on Instagram @postcalligraphy.
Lisa also gifted each guest with a personalized name card and their favourite quote written in calligraphy to frame. Le Dolci Cupcakes and Cakes satisfied our sweet tooth with a delicious selection of macarons. If you're ever craving macarons, we recommend a trip to Le Dolci. Or better yet, join in on their next Macaron workshop. We plan to host another one soon so stay tuned!
Guests also sipped on Fentiman's lemonade and received Rifle Paper Co. notebooks, which are sold at The Paper Place, along with a wide variety of other Rifle products.
We also couldn't wait to gift our guests with totes from Ban.do to celebrate the companies launch at Hudson's Bay in Canada! Yes, that's right. One of our favourite brands is now available at The Bay! The black and white stripped tote with the hot pink heart was the perfect addition to our kit.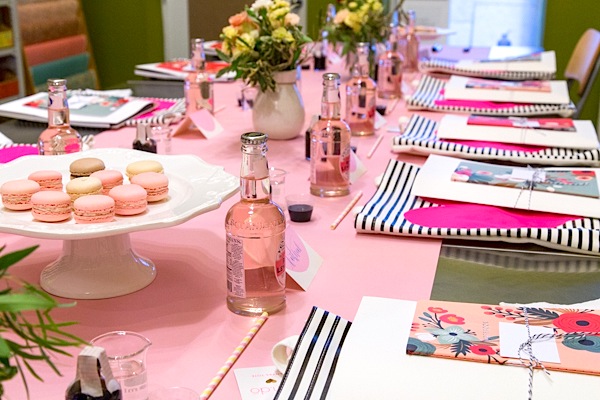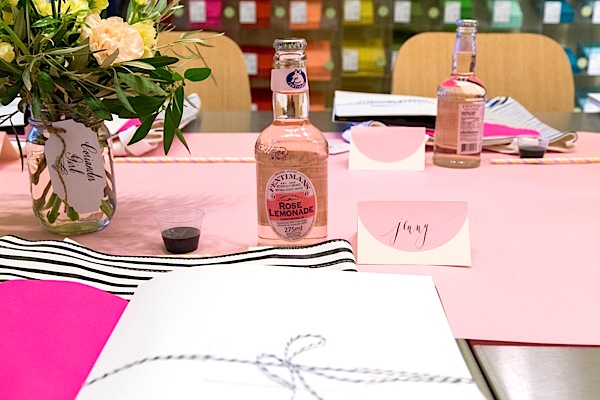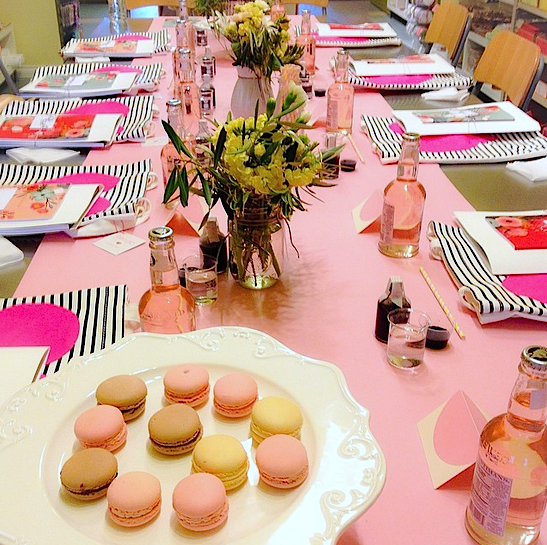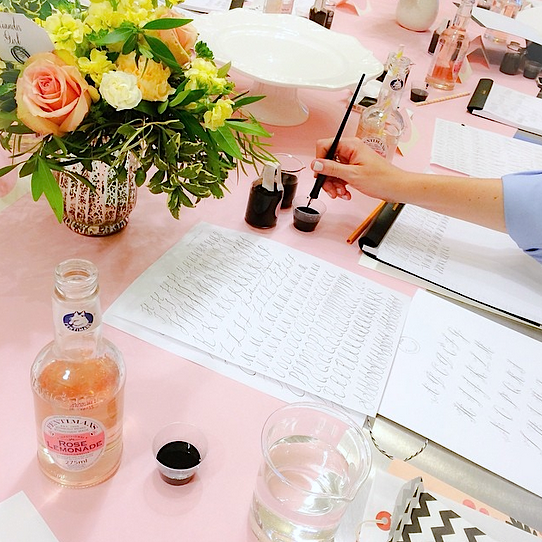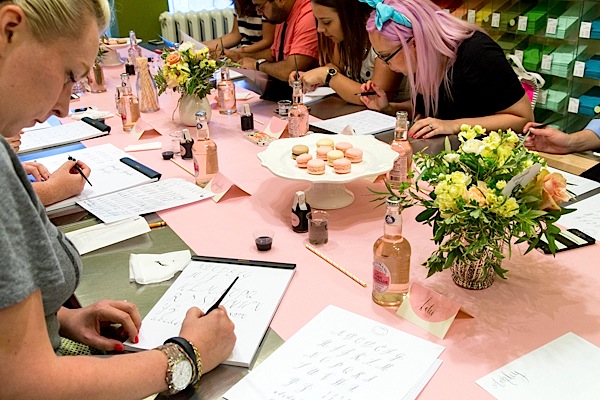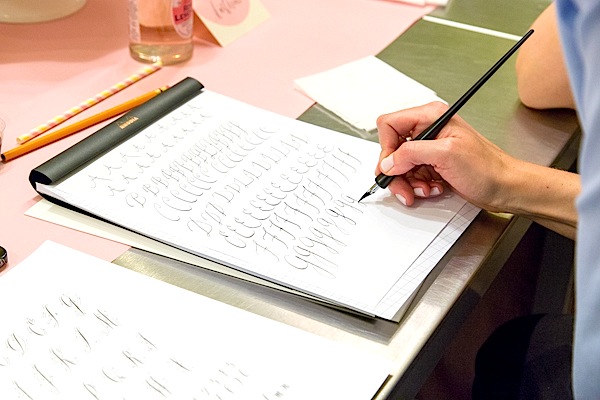 The beautiful flowers were provided by the amazing Coriander Girl.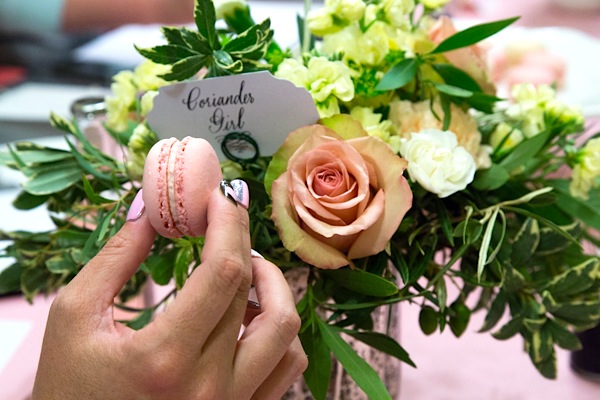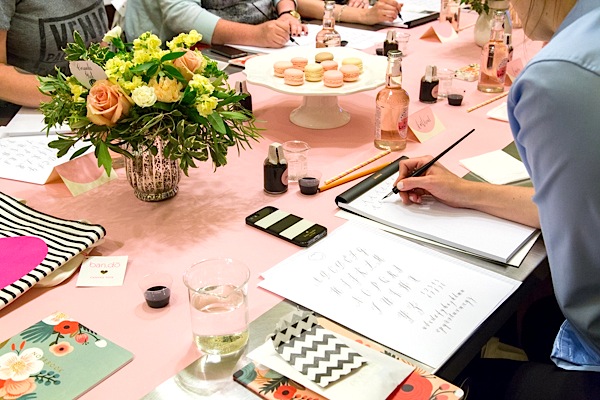 Thanks to all of those who joined in the fun!
Check out the full image gallery HERE. Special thanks to Cameron of @SnappedbyCam for taking these beautiful shots. 
.
Tags: calligraphy, calligraphy workshop, pink the town, pink the town event