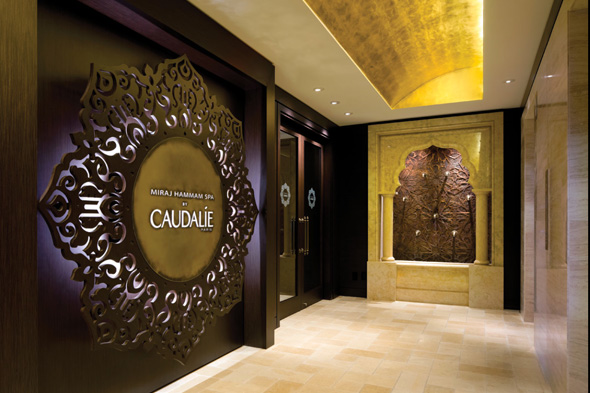 For me, facials are something that I do and then immediately question why I don't them more often. I recently had the pleasure of visiting the Miraj Hammam Spa by Caudalie Paris at the Shangri-La in Toronto and I can honestly say it was THE best facial I've ever had.
I've had my fair share of good facials, but this one was next level amazing.  They literally do every treatment you could possibly imagine and the only products they use are Caudalie products. If you've been following my blog, you know that Caudalie is one of my favourite skincare brands. The products feel/smell amazing and are super hydrating for my dry skin. They also don't irritate my sensitive skin which is the best part.
I've had facials where your face feels so irritated after that you feel like you were better off not having the facial. With Caudalie products, I don't have to worry about how much product they are putting on my face because it never irritates me.
The spa itself is so beautiful and zen AF. You feel instantly relaxed as soon as you walk in. The treatment rooms they keep extra dark (which I love) and the staff were really friendly. 

I received the Vinoperfect treatment and the Oxygen treatment. The Vinoperfect treatment restores radiance and vitality. The sculpting massage with essential oils is definitely the highlight as well as the small hot and cold basalt stones face massage. I've had hot stone massages on my back before, but definitely never on my face. This was seriously next level. They alternate between the hot stones and the cold stones and circulate them around your face. I've never experience anything like it. 
The next part of the facial was the Oxygen treatment. A cool mist of pure oxygen is incorporated with serum infused into the skin and is designed to help minimize fine lines, reduce redness, eliminate bacteria and bring life back to the skin. Needless to say my skin had never looked better when leaving the facial. I also stocked up on all of my favourite Caudalie products on my the way out of the spa. 
Side note: In case you needed another reason to visit the Shangri-La spa, I actually ended up in an elevator with Auston Matthews. Obvs had to get a selfie.