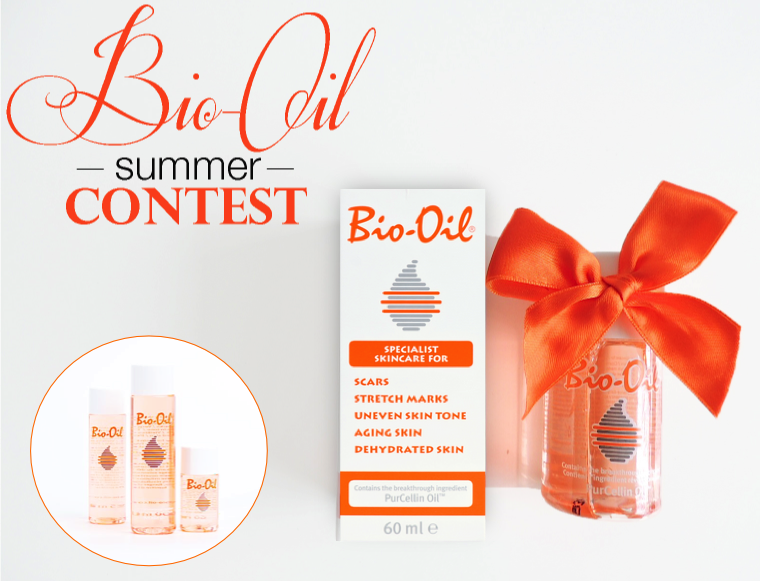 If having one product that can serve as your face and body moisturizer, bath oil, anti-aging skincare, makeup remover, hair treatment, nail care and treatment of scars and stretch marks appeals to you, then you may want to read on!
We're giving away a Bio-Oil Summer Essentials prize pack worth $65 to one lucky winner.
It's the perfect time of year to highlight a product that can help with all kinds of summer skin issues. We're all enjoying wearing our short-shorts, tank tops, sun dresses and itsy bitsy bikinis, but that also means our skin is on display for all to see and nobody wants feel insecure about the way their skin looks. Bio‑Oil is a specialist skincare oil that is clinically proven to improve the appearance of scars, stretch marks and uneven skin tone. Bio-Oil's moisturizing properties also make it effective for aging and dehydrated skin. A truly multi-tasking oil, can be used as a moisturizer for face and body, to gently remove makeup, to condition nails and cuticles, to soften dry heels and elbows, to tame split ends, to soften and condition lips, to relieve itchiness, to soothe skin after shaving, or as a moisturizing bath oil. Bio‑Oil has garnered 184 skincare awards and is the No.1 selling scar and stretch mark product in 17 countries, including Canada.
To enter, simply click on this post to leave a comment describing how you plan to use your Bio-Oil.
Contest entry is also available on our Instagram @PinktheTown
Contest closes Sunday, August 17th.
(Sponsored)
.