Award season is in full swing and this past weekend marked the 72nd Annual Golden Globes Awards. Did you check them out? I enjoyed three hours of red carpet coverage and another 3 hours of the award show. I love award shows so much that I'll actually watch it for 6 straight hours and enjoy every moment. Check out some of my favourite highlights below:
THE HOSTS:
Tina Fey and Amy Poehler are by far my favourite hosts of any awards show, ever. It's being said that this was their last year hosting, which I really hope isn't the case. My only wish was that there was more of them during the show! I need more of these two together. They either need their own show or they need to make more movies together.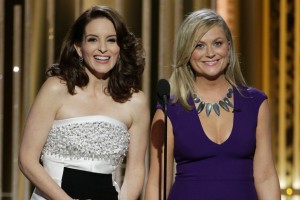 THE FASHION:
There were some great fashion highlights on the red carpet and I've officially added the following to my wish list: A dress that fits as well as Katherine Heigl's Zac Posen dress, white gloves like Amal so I can look like royalty too, and is there anything cuter than Lupita in a fancy dress paired with these glasses?
BEAUTY:
Beauty looks that I must re-create asap are: Emily Blunt's braid, Allison Williams faux blob and Chrissy Teigen's messy high ponytail. LOVE!
I'm also taking Blonde-spiration from these beauties below. So many great shades of blonde to try out!
EMMA STONE'S EVERYTHING:
In love with everything Emma Stone has going on. The outfit, the hair, the makeup, the bow at the back. This girl can do no wrong!
Share your highlights below!